A paint ball day with Paintballing Toronto.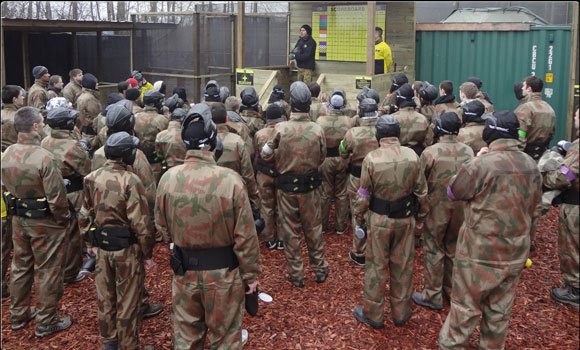 Visit Delta Force for a full day of paint ball adventure and discover why this exciting activity is growing so popular for so many people! Every week we see more players, of all ages from both genders, taking on the challenges provided at Delta Force Paintball and for very good reason; it's fun, as extreme as you want it to be and most importantly of all – it's safe to do as well.
Birthday parties, family reunions, corporate events, stag or hen's parties or just a group of friends getting together to enjoy a day outdoors with a difference; paint ball is the perfect way to celebrate an occasion with family and friends. Whatever the occasion, we'll do everything in our power to ensure everybody in your group will have an absolute blast at Delta Force Paintball.
First up, you'll be greeted by friendly staff and they'll make certain you are registered as quickly as possible and issued with all of the essential items needed for battle and you can settle into base-camp to relax, stock up on supplies and go over your equipment. Your protective goggles, full-length combat suit with our custom-designed body armour will keep you safe and pain free out there. Your battle-pack is a 400 ball capacity ammunition holder that will make sure you don't run out of paintballs while in combat.
Before the action begins, all players must listen to the compulsory safety briefing. This short lecture will show you the basics you need to know (including how to use your paintball artillery) and will outline the rules and regulations of the day.
After the briefing you and your group of civilians, now morphed into a specialist war machine, will proceed through the gun zone where each of you will be issued with a 0.68 caliber paintball gun. If you choose, you can get a feel for your weapon on our shooting range before heading off to the action-packed scenarios for some extreme paintballing!
On a full day paintball adventure you'll experience all facets of the game. Several game zones await and each has it's own unique feel and game play. Many have unique rules and objectives for your team to achieve. With the variety of game zones and the best equipment, your paint ball outing at Delta Force Toronto will not just be an adrenaline rush, it'll be a thrilling memory in the making as well.
A lunch break back at base-camp will give you and your group of now excited paintball veterans a chance to re-fuel your bodies, re-stock your ammo and discuss strategies for the next mission ahead. Will you find cover and hide? Or will you keep moving? Will attack be the best form of defence?
As the day progresses, your team's score will be kept tallied on the scoreboard. Will your team go for the win overall? Or just enjoy the fun and energy out there on the battle fields? It's all your call.
Our Toronto centre caters to player groups of all sizes and the base-camp facilities make it a comfortable day out for both players and non-players alike.
It's a fun day out for all who come along and get involved so round up the troops, and prepare for an epic paintball experience.