Where the stars come to play!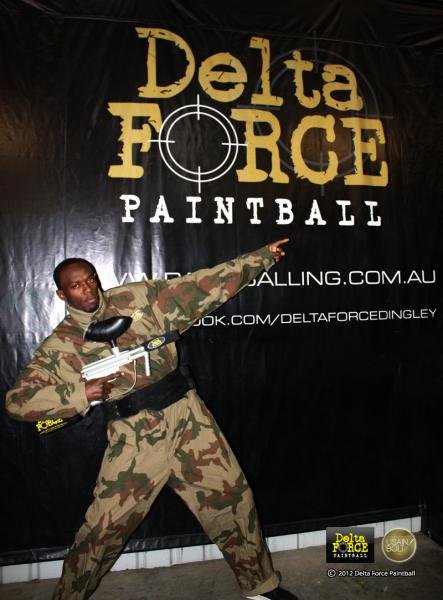 From high profile sporting teams such as ice hockey's Edmonton Eskimos to the charismatic and world's fastest sprinter, Usain Bolt, Delta Force Paintball constantly has those in the limelight enjoying paintball our way. From high profile actors and models such as Supermodel Elle MacPherson to royal family members and F1 stars and teams, we have entertained, and continue to entertain a plethora of celebrities from around the globe.  A constant 'A List' of celebrities visiting our centres has been the norm since Delta Force Paintball opened in the UK in the '80′s. We have been the celebrity paintball company of choice for entertaining a wide range of personalities, from those mentioned above to rock stars and other musicians.
Stardom at Delta Force Paintball even extends to our game zones. Many have been used as backdrops and scenes for various television shows and movies because of the movie quality of our paintball sets. A Rambo star is even permanently residing at our Vancouver location for all our players there to see and be photographed with. The massive helicopter gunship used in Rambo 2 is no mockup, it's the actual machine used to make the movie!
With a great range of movie-set props strategically placed throughout our centres and the best equipment in the industry, we are the clear centre of choice when it comes to paintballing for not just those stars from stage, screen and the world of sport, but also for the average Canadian who just wants to play with the most professional paintball operator on the planet and know their choice was the best available.
Whether you're a celebrity, an average Joe or a weekend warrior, come and experience the best paintball fields Canada has to offer, it's safe to say that you'll have an experience to remember on the day.
We like to extend the celebrity paintball treatment to all our guests.