We have got you covered!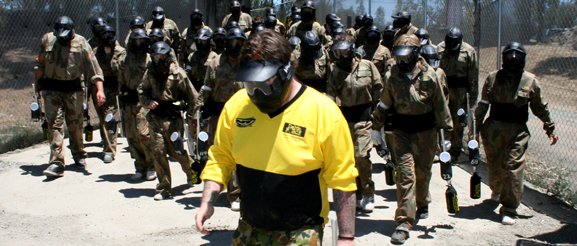 Do you want to play paintball safely? If you want to play with the safest and most action-packed paintball company in the industry, it has to be Delta Force Paintball. We have been in operation for over 25 years and we are proud of the 100% safety record we have maintained in our commitment to paintball safety. It is no surprise really when you know the lengths taken to uphold this exemplary standard.
As a commitment to show how seriously we take the safety of our guests, we are covered by Full Public Liability Insurance up to $20 million. This ensures that health and safety standards are adhered to according to the Australasian Painball Association (AUPBA).
Delta Force has set the bar high in terms of paintball policy and procedures so be safe in the knowledge that you will be in the safest of hands.
Players are sometimes unintentionally in danger when their glasses fog up, or a paintball splashes on their face shield, and they take off their glasses. Our safety standards are extremely meticulous and are the envy of other paintball centers. To ensure the complete safety of all players, Delta Force managers, assistant directors, and superintendents have current first aid qualifications and many other senior executives have previous service experience and similar qualifications.
We are offering the five star experience and ready to satisfy all your non-stop action demands. Our different paintball centers welcome you with great equipment. We have comfortable and spacious place accomplishing all the requirements. In addition to the gaming the best gaming experience we are happy to help with the other facilities like parking, flushing toilets, lockers to store valuables and various snacks and additional paintball accessories.
Paintball Safety is key!
When you play paintball at Delta Force, you don't have to worry about a thing. You can play paintball with confidence, knowing that Delta Force Paintball takes your safety seriously. We maintain state of the art health and safety standards. Because of these high standards, we are an example to all other paintball suppliers.